Shopping Cart
Your Cart is Empty
Thank you for your business!
You should be receiving an order confirmation from Paypal shortly.
Exit Shopping Cart


The Lebanese Orthodontic Society is a professional society of educationally qualified orthodontic specialists dedicated to promoting the art and science of orthodontics and dento-facial orthopedics in the Lebanese territories and around the world.
It contributes to the improvement of the oral-dental health by participating in the continuing education of its members, and by encouraging the development of scientific research in the field of orthodontics.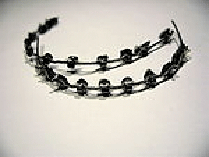 The cost of braces can vary depending on the type of braces, where you buy yourbraces, and the required procedures for fitting.
Orthodontics truly began developing in the 17th, 18th, and 19th centuries. In 1728, French dentist Pierre Fauchard, who is often credited with inventing modern orthodontics, published a book entitled "The Surgeon Dentist" on methods of straightening teeth.
The 17th Annual Meeting
June 21 & 22, 2019
عندما تنظفىء الشمعة وقتها ندرك كم كان نورها يللأ في حياتنا
/